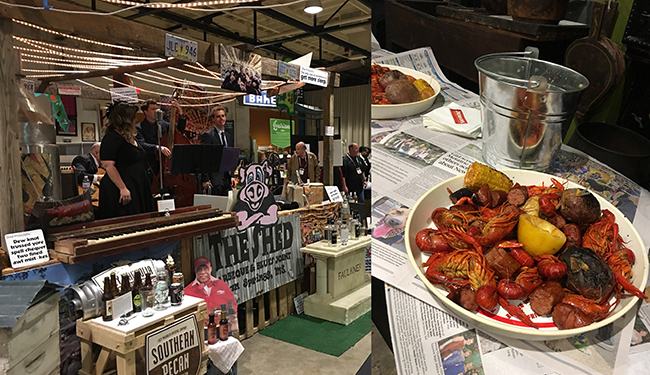 Foodservice professionals gather at Menu Directions to share ideas on their businesses and their customers. In its 16th year, this conference is devoted to bringing actionable ideas and insights to foodservice operators in the non-commercial foodservice business.
On The Horizon

Today, foodservice operators are blending mushrooms with meat for an umami hit that makes it easy to use less meat in meat centric-dishes. On the horizon is lab-grown meat with potential to sustainably grow endangered species.
Trend Spotting
Cooking techniques that add healthy flavor are gaining favor in professional kitchens – roasting, braising, searing, deglazing and poaching.
Sipping Satisfaction – consumers are becoming more inclined to drink to wellness with beverages that either replace a meal or add a good feeling to the day with bone broth, fermented beverages and green juices.
Look to Southeast Asian Islands and Eastern Africa for emerging flavors and trends like Tanzanian barbecue.
Handheld Flavor Bombs with global flavors make it easy to walk around the world and feed the
snacking wave.
Hot Pots are adding new excitement to shareable meals and communal dining experiences with cooking at the table that is not fondue and uses bone broth or stock instead oil.
Culinary Bowls – mindful composition of flavors and ingredients is what makes bowls craveable.
Sin is in with 71% of consumers saying they order indulgently when they dine out according to Technomic.
Stealth Health is out in favor of full transparency for consumers who want to know about the foods they are eating.
Ethics On the Go
Millennials have gained a reputation for leading the mindful dining movement, and they are willing to pay for food and beverage options that meet their standards. A new Culinary Visions Panel survey found 67% of consumers under 35 said they would be willing to pay more for snacks if they knew they were ethically produced.
Implications for Food Marketers
Making Everyday Exceptional – ideas that make it easy to make something ordinary taste extraordinary are in demand.
Mindful Merchandising – Foodservice professionals are using appetizing menu descriptions and premier placement of healthy items to encourage their customers to make mindful choices.
There is no one size fits all solution for non-commercial foodservice. Beyond big picture concerns with labor, safety and cost control each operation is as unique as its customer base.
Simply Healthful Recipes
Minor changes to foods consumers love can provide an equal or better experience for consumers. Imaginative plant forward cuisine and the "protein flip" where meat is served on the side rather as the main attractive are pleasing carnivores interested in healthful eating without compromising satisfaction.
Taste Talk Tweet
Twitter chatter included:
Bowls are booming for breakfast, lunch and dinner.
Millennials are more tempted to order a dish if there is an original sauce included.
Health is the number 1 driver behind plant based foods.
Follow us on Twitter @Olsoncomm