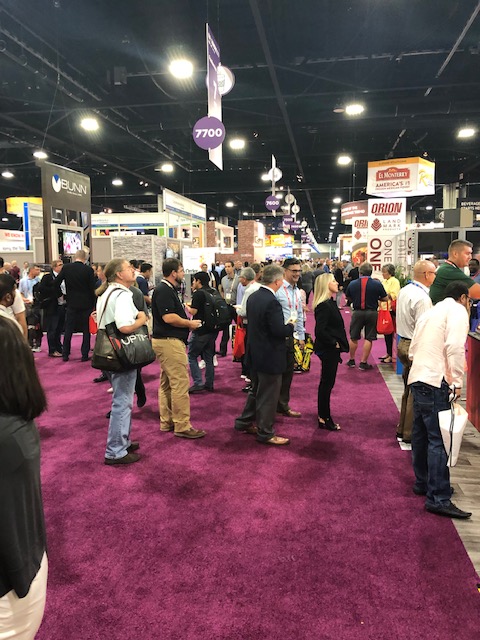 The National Association of Convenience Stores (NACS) Show attracted nearly 23,500 visitors. Industry professionals converged in seminars and on the show floor to see the cool new products and learn about trends in the convenience retail business.
Trend Spotting
A newly released report from Y-Pulse (ypulse.org) highlighted top trends driving consumers to convenience retail operations.
Healthful and Delicious
Young consumers are accustomed to making food and beverage choices without making sacrifices. Gen Z and younger Millennial consumers agree that they shouldn't have to try too hard to eat healthy; 86% state that they expect healthy food to taste delicious too. Most importantly, they're willing to pay a premium price to get what they want.
Everyday Elevated
Unique, high-quality fare continues to delight and attract young consumers. Young consumers regard convenience operations as great places to expand their tastes with 63% stating that they like to try new items when purchasing food at convenience stores.
Made for Me
Young consumers value their time, but when a menu item is customizable, this individualistic generation is willing to put their fast-paced lives on pause. 86% stated they would be likely to order menu items that they can customize, and 83% said they are willing to wait for a customized sandwich rather than buy a packaged one.
Protein Power
Squeezing extra protein into their diets is a high priority for many of today's young consumers. 66% said that eating a high-protein diet is important to them, and 82% say that they love meat.
Cool New Products
Tried and true and trendy were on display with cool new products that debuted at this show.
Traditional snacks showcased new flavors and fusions – citrus infused beverages and savory snacks.
Hot and spicy, salty and sweet combinations were plentiful.
Super powered food and beverages with vitamins and other ingredients promising energy, strength and even hangover relief.
The vegetable-centric trend was seen in snacks with a wide range of root vegetables and crunchy legumes.
CBD infused gummies, drops and specialty items for people and pampered pets.
Stuffed versions of classic grab and go fare included: pretzels, doughnuts, pizza wedges, waffles and hash browns.
Implications for Food Marketers
Balancing Healthfulness and Indulgence – When it comes to convenience retail, there is room at both ends of the spectrum for breakthrough products that appeal to convenience retail consumers.
Elevating Everyday – Convenience retail is becoming a destination stop for many consumers craving specialty and gourmet products on the go.  Manufacturers are touting culinary and R&D expertise. Value is defined by satisfaction, not
price alone.
Powered Up and Pared Down – Today's consumers want more in and out of products they enjoy on the go. Products with extra benefits like protein, vitamins and super-ingredients as well as less sugar, fat and artificial ingredients appeal.