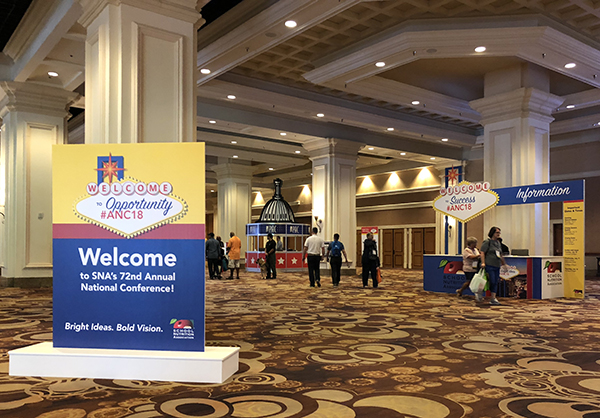 Education segments, including K-12 and Colleges & Universities, serve some of the most enlightened and demanding consumers in the foodservice industry. Leaders in both markets gathered in Las Vegas at the School Nutrition Association Annual National Conference (SNA) and in Providence, Rhode Island for the National Association of College & University Food Services National Conference (NACUFS), covering foodservice in self-operated, contract and hybrid schools.
Breakfast Starts and Ends the Day
Breakfast all day continues to be a hit with kids and young adults. New concept testing from the School Meal Innovation Lab™ found that breakfast concepts, the banana berry smoothie, overnight oatmeal and Tex-Mex breakfast bowl, were among the top choices studied with kids and adults.
Trending Now
Global Comfort Food – diverse campus consumers are driving exploration and innovation in delivering international flavors in satisfying bowls.
Smart Snacking – pops, puffs and waves deliver satisfaction in crunchy snacks with fewer calories.
Handhelds Redefined – fun formats for center of plate and snack sizes include cheese fritters, empanadas, filled breadsticks and even smoothies on a stick.
Sustainable Packaging – new reusable aluminum water bottles are bringing waste reduction to campus.
Cooking Culture
Young consumers live in a food-centric culture and are important consumers of food media. According to a new Y-Pulse (ypulse.org) study of kids in K-12 schools, 52% like to watch "Tasty" style videos, and 46% try to cook some of the meals they see. Cooking classes on college campuses continue to be immensely popular as well.
Community Consciousness
Young consumers are more aware of food insecurity than ever before and they want to be part of a solution. Sharing stations are becoming available on campus and students are organizing to support community programs.  Kids and adults are in sync on this issue. According to a recent Culinary Visions® Panel survey, 71% of adults choose restaurants that support the community over those that don't get involved.
Implications for Food Marketers
Feeding Omnivores – plant-based proteins can please vegetarians and meat-eaters with delicious and flavorful options.
Dispelling Myths – fact-based communications and parent education add credibility and validate the quality and nutrition integrity of food served at school.
Clean Labels are the Only Labels – clean ingredient statements are required to play in this space where wholesome often equates to quality.
Taste Talk Tweet
Twitter chatter included:
#ANC18
School gardens allow districts to bring nutrition into the classroom
Finding ways to make meals "fun" increases engagement
#NACUFS2018
Delicious dips let students customize flavors
Pizza is a perennial favorite