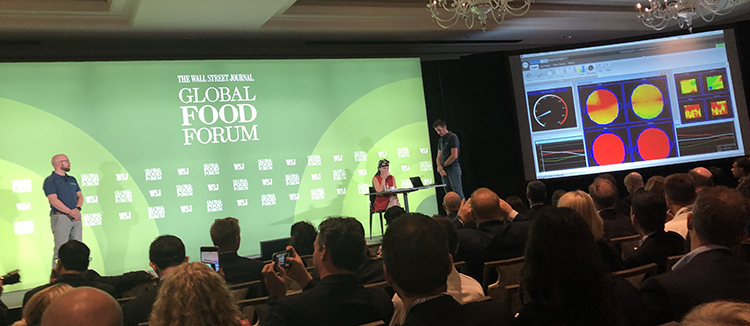 The Wall Street Journal's Global Food Forum exclusive conference gathered leaders in agribusiness, food production, consumer products economics and government to explore key risks and opportunities shaping the global business of food.
25 speakers and 13 journalists discussed, debated and enlightened the audience on trends that are transforming the food business in this exhilarating and interactive one day session.
Big Food, Big Dilemma
Insurgent brands with innovative products and disruptive cultures are changing the nature of the food industry. Big food companies are alternatively exploring ways to create greater agility in the innovation process to build value of time honored brands and exploring when acquisition is the right strategy.
Global innovation must respond to local cultures. Although there are global trends in consumer desires, the tactical execution of products is most successful when focused on the needs of smaller geographies with unique taste and flavor preferences. Success is increasingly found in speed to market as opposed to long-term research and development trying to create products with global appeal.
Millennial Parents Driving Snacking Culture
CEO Dirk Van de Put of Mondelez shared insights on the global snacking culture, pointing out that eating 7 smaller meals or snacks has become the norm in modern households.
He also pointed out that the global market for snack foods is 80% indulgence, 20% health and wellness, no matter what their in-depth research tells them. When defining healthful snack products, 33% of consumers want natural, clean label and simple ingredient products; another 25% want what they define as permissible indulgence.
Alternative Everything
One of the most heated debates at the conference was between representatives of the dairy, beef and plant food associations regarding product labeling and regulation. Yet in a free market environment, consumer demand and the realities of retail merchandising are compelling retailers to expand the offerings in their meat and dairy cases with additional varieties and alternatives in many product categories.
Implications for Food Marketers
Consumers expect to have it all – Products that offer indulgence with healthful characteristics feed the desires of today's consumers at home. Healthful, delicious, accessible and sustainable menu offerings are driving foodservice.
Consumers are savvy – Marketing claims that create confusion or obfuscate facts are not well received by today's consumers who believe they are smart enough to know what they are buying and are able to read an ingredient label when they need to know more.
Technology changes everything – Technology impacts every aspect of the food chain and is expected to continue to do so in order to feed the 50% increase in demand for food expected by 2030.
Global Syndemic
Three pandemics: obesity, malnutrition and climate change represent the global syndemic that affects most people in every country and region of the world. Corporate responsibility was discussed and challenged by speakers who passionately made the case for scalable solutions rather than small scale programs that were well intentioned but executed without sensitivity to local cultures and circumstances.