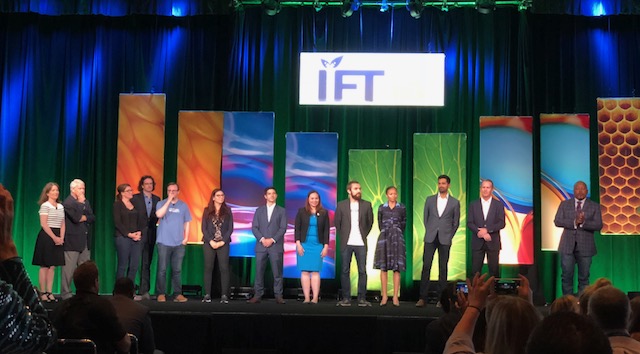 This international conference about the science of food brings together more than 20,000 attendees and 1,200 exhibitors including food industry, government and academia, where they share the latest research and solutions among R&D, scientific and technical titles. IFT is about so much more than ingredients and processing techniques – it's about food that changes the world.
Trend Spotting
Boozy Byproducts – byproducts from craft beer are being used to produce flour for pasta and made into great tasting snacks with superior nutrition.
Intelligent Induction – in development now is a technology that heats food safely and conveniently in disposable packaging using the same device that charges a mobile phone battery.
Positive Processing – natural processing techniques help to preserve and enhance flavors, sometimes by making small changes to the production process.
Flour Power – super flours provide all the consumer appeal of traditional refined white flour but add substantial benefits in both nutrition and sustainability. Flours made from soy pulp, millet and even bananas stood out.
Insects Living On – edible insects prove to be more than a mere novelty as the industry advances beyond the cricket. Innovative insect-based ingredients such as TIP (textured insect protein) produce high-quality options that are gentle on the planet as well as delicious.
Bridging the Divide – new advances in technology allow for new forms of farming such as urban-friendly vertical farming to continue building toward a healthy and accessible food supply for all.
Essentials of the Value Proposition

Sell to the consumer's interest – the old adage "what have you done for me lately" has given way today to "what have you done for anybody lately." A recent Culinary Visions® Panel study found that 71% of consumers say they choose to support restaurants that support their local community over those that don't get involved.
Repurposing Food Waste
Proper nutrition is linked to productivity in the classroom. Products that enable organic and affordable hydroponic farming are creating fertilizer from food waste and bringing healthful foods into schools where cost is a challenge. Relationships with food distributors in major markets is one key to securing such success.
Implications for Food Marketers
More and Less – today's consumer wants more fiber, more protein and more flavor; meanwhile desiring less processing, fewer chemicals and fewer ingredients.
Transparent Marketing – when done right, the unknown can be appealing, not scary. Using straightforward consumer-friendly language to inform builds understanding and trust of new technologies that make food better and more nutritious.
Mindful Moves Mainstream – consumers want to feel good about what they eat while consuming what is good for their bodies and the world around them. Better for you, ethical and community engagement continue to trend and show no signs of slowing.
Taste Talk Tweet
Twitter chatter included:
– Sugar concerns are causing sports drinks to go natural.
– Experts say there is room for traditional agriculture and organic farming to co-exist.
– Algae, kelp and other sea plants are making an appearance in snacks and beverages.
Follow us on Twitter @Olsoncomm