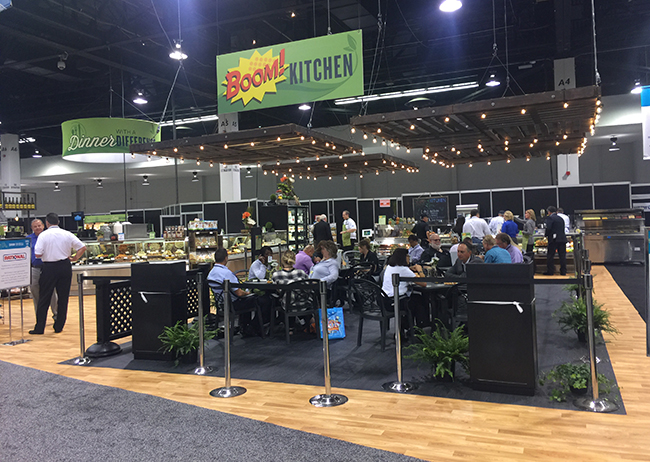 Leaders in the dairy, deli and bakery business gathered in Anaheim to learn about the latest products and opportunities for their operations. Conversations focused on solutions to the challenge of consistently delivering fresh, healthful and delicious food to consumers.
Gen Z and Millennial Impact

Effectively engaging millennials as customers and Gen Z as employees can be a game changer for delis who understand the differences in winning younger customers without alienating core baby boomers.
The Deli Experience
A captivating experience like those found at food markets can entice customers to the deli.  According to a new Culinary Visions® Panel study, 60% of consumers surveyed said shopping at food markets is one of their favorite types of food experiences.
Deli Trends
Fresh is Everything to Customers – the fresh perception of the deli influences the opinion of the entire store. In a recent Culinary Visions Panel study, 67% of consumers believed that everything in the store is better if food in the deli is fresh.
Convenience – consumers crave convenience; the 150,000 convenience stores in the U.S. are serving more and more needs for today's food shopper.
Clean Labels – consumers trust simple and authentic, and clean labels are an important validation.
Authentic Flavor – delis are in a unique position to offer authentic international foods that would be difficult to make at home.
Everyday Catering – more and more consumers look to the deli catering department and in-store bakery to feed family parties and celebrations.
Food and Flavor Experiences
Meal Kit Momentum – the momentum of meal kits continue to rise, enabling consumers to create meals at home that might once have been considered only as restaurant fare.
The Heat is On – Sriracha is becoming almost as mainstream as salt and pepper.
Bite size indulgence – consumers who are unwilling to give up luxurious sweets can have their indulgence in bite size desserts or sweet and crunchy snack thins.
Sampling Influences – 71% of the consumers surveyed by Culinary Visions Panel are more likely to purchase something that they may not have considered, if a sample is offered.
Implications for Food Marketers
Consumers Seek Affordability – Modern consumers are increasingly adept at balancing their needs for convenience and value.
All Day Execution – Delivering fresh and flavorful experiences has to be consistent throughout the day, it's not just an opening act for peak shopping periods.
Forge a Connection – Today's consumers want to be connected with the producers of their food. Whether it is a story or an in-store experience, sharing the passion of the producer matters.
Taste Talk Tweet
Twitter chatter included:
Focus on abundance without food waste
Convenience takes center stage
Unexpected combinations like cakes topped with nacho chips
Salad bar concepts promoting lean protein
Follow us on Twitter @Olsoncomm