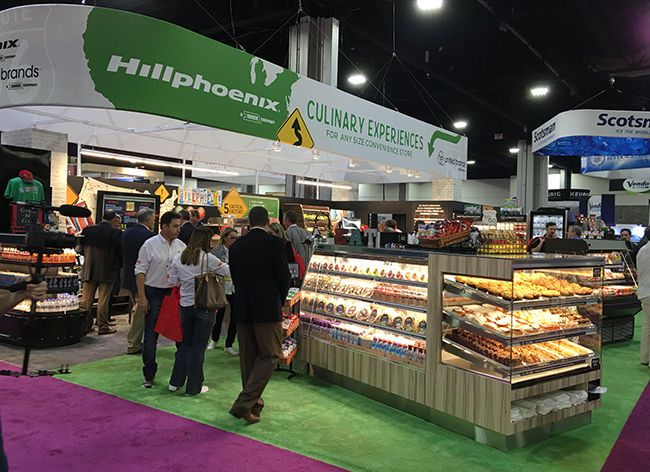 Buyers and sellers meet at the National Association of Convenience Stores Show to see the latest foodservice programs and equipment, retail candy and snacks, operational developments, merchandise, technology, and fuel equipment and related services. Nearly 24,000 attendees converged on the show floor to network, learn, buy and sell.
Trend Spotting
Coffee Continues to Trend – new cold brew varieties, nitro-capable aluminum packaging, flavor infusion stations and creamer innovations proliferate.
Prepared Sandwiches & Wraps – microwavable and ovenable packaging boasted claims such as "handmade," "handcrafted" and "authentic." Innovative bread carriers included waffles, French toast, flaky foldable dough and pre-grilled panini bread.
Sausage and Bacon Jerky – marketed as breakfast meat snacks, they came in flavors like maple bacon and hot & spicy breakfast sausage.
Sriracha Flavored Products – ranging from smoked sausage and roller grill condiments to a salt blend for consumers to customize their own flavor experience.
Grab & Go Snacks – new products included chips with dip, single serve guacamole pouches, salsa tube sleeves, and salsa con queso with strip shaped tortilla chips, plus creamy cheese and breadstick kits in adult flavors such as Swiss, single serve hummus packaged with ready to eat chicken and larger meal kits with trail mix, cheese and hard boiled eggs.
Indulgent Sweets – ready to bake s'mores handpies and refrigerated ready to eat cookie dough for foodservice, as well as retail packaged cupcake dipper kits with icing and cake pieces, new cookie forms with names like cake "crisps" and "chips," and seasonal donut flavors such as caramel apple and salted caramel.
Natural Packaging – package design and merchandising in earth tones and kraft paper designs indicate more natural and less processed products.
Foodservice Business Dynamics
Convenience is front and center for all c-store food items, and the ease of eating on the go is paramount to entry into this market. A recent Culinary Visions Panel® study on trends in foodservice found that 66% of consumers prefer meals they can consume on-the-go.
Implications for Food Marketers
Singlehanded – products designed for single serve meal and snack occasions must be easy to eat with one hand while on the go.
Changing Lifestyle Dynamics – consumers' lifestyles are driving their purchases, and new demographics are changing the landscape of c-store design to focus on fresh, flavorful and indulgent.
Framing it Up – prepackaged meal kits and snack packs as well as cross-merchandising to create full meals in different areas of the store help consumers with their purchase decision.
Communicating the Story – consumers in all segments want to have a restaurant-style experience and c-store is no different; merchandising and buzzwords that communicate quality draw them in.
Taste Talk Tweet
Twitter Chatter Included:
Consumers crave bold and spicy menu items
Nitro cold brew coffee continues to trend
Energy drink soda is the new beverage
Digital menu boards increase foodservice sales
Follow us on Twitter @Olsoncomm