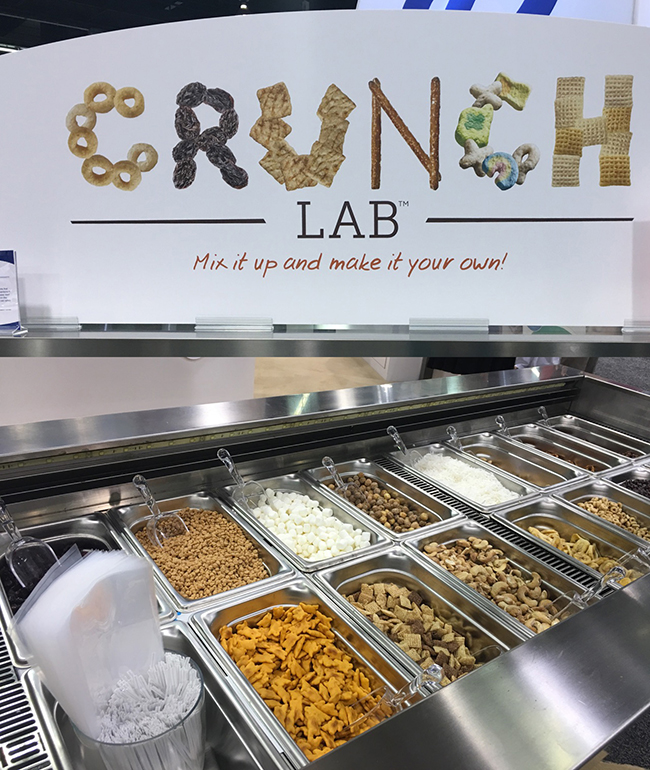 The National Association of College & University Food Services (NACUFS) conference allows foodservice directors to discover new products that will attract lifetime customers and uncover trends that will be important to foodservice consumers over the next decade.
Business Dynamics
Campus dining is increasingly used as a recruitment tool to attract new student enrollment, with nearly 80% of C&U operators reporting this as a factor in decision making. A demographic shift toward more female students is causing foodservice directors to reevaluate healthy choices, with females topping 60% of the student population at many universities.
Consumer Insight
A Y-Pulse (ypulse.org) study surveyed college and university students, as well as foodservice professionals, about their use of social media related to on-campus dining services. Research showed that 93% of students agreed that receiving information on promotions, deals and discounts would encourage them to visit campus foodservice establishments; furthermore, 76% of students agreed that receiving information about nutrition and ingredients would encourage them to visit on-campus foodservice stations.
Future of Contracted Foodservice
Commoditized Pricing vs. Extraordinary Experiences – providing an exceptional experience that students value beyond pricing is a part of recent marketing strategies for contractors.
Food Stations Meeting Dietary or Lifestyle Needs – high-protein, low-carb stations are successfully attracting more than just athletes to dining halls, as they are becoming the most sought-out eateries on campus.
Changing Demands of Students – customization, authenticity and convenience are the most important demands that C&U's are challenged with every day.
Branded Concepts – although students are familiar with the national branded restaurant concepts which contracted facilities bring, this can be limiting because their agreements only allow particular brands, and independent or proprietary brands which are popular on campus may lose their place.
Lifestyle Dynamics
Anytime dining, sustainability, 'Meatless Mondays' and social lounge rooms are some examples of how C&U foodservice directors are accommodating the modern student's lifestyle. For example, residential dining hours have historically been out of sync with students' lifestyles (often closing around 7:30pm). By extending the hours of operation and rotating available food stations, anytime dining gives students the flexibility and control to consume food when it works best for their busy lifestyles.
Implications for Food Marketers
Borrow Ideas from LSR – digital menu boards with rotating highlights on high-profit items raise purchase of those items by approximately 10%.
Marketing Assist – manufacturers can help campus marketing teams by offering assistance with seasonal marketing programs.
Speak Students' Language – identifying foods that help make healthy heart and bones are not as attractive to students as glowing skin, bright teeth and fit bodies.
Digital Engagement – robust programs from tech savvy marketers engage students with promotions and limited time offers (LTO) from their favorite facilities.
Taste Talk Tweet
#NACUFS2016 Twitter chatter included:
#Reinvent how C&U students approach on-the-go snacking with options like trail mix bars
#Nutrition confusion caused by media headlines
#For the first time, Americans are spending more on dining out than on groceries
If you want to follow our observations in real time go to http://twitter.com/YPulseLLC
Contact us at info@ypulse.org or 312.280.9061 to learn more about our insights from the National Association of College & University Food Services conference.