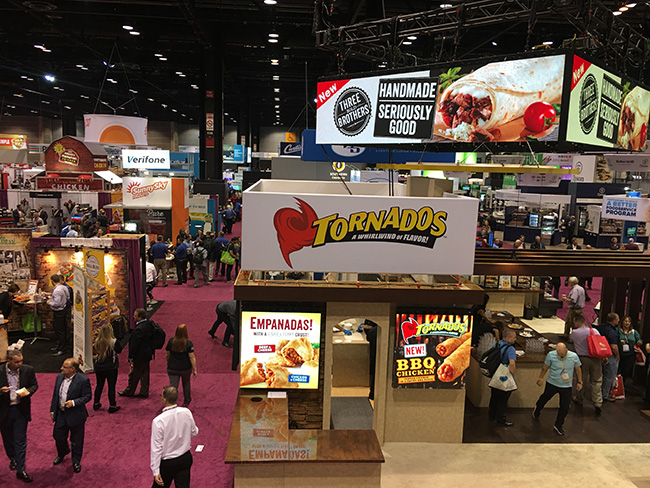 Every year the National Association of Convenience Stores (NACS) Show attracts nearly 24,000 industry professionals. The attendees converge on the show floor and see the new trends, products and technology available for convenience stores.
Product Spotlight
Restoring Energy – many items touted functional claims; oxygenated water and energy drinks with stamina, metabolic and mental clarity advantages to "powerful" oatmeal
Cold Brew Coffee – multiple brands were showcasing their takes on the cold brew coffee trend, including several nitro varieties on draft and in bottles, and race car-inspired equipment designs
Premium Ingredients – premium ingredients were used in several new products ranging from breakfast foods and sandwiches to snack packs
Small Footprint Foodservice – specialty equipment to make foodservice hassle free and less intrusive in a small store
Less Is More – yogurt targeted at "what men want," products with zero added sugar, no artificial flavors, sweeteners, non-GMO and gluten-free
Natural and Organic – the amount of drinks, meats and cheeses created with natural and organic ingredients is continuing to grow, and NACS showcased several new brands that were bringing organic ingredients to c-stores
All Day Satisfaction – several vendors presented their all day products, which were often traditional breakfast foods re-imagined to boost their appeal across all dayparts, such as hardboiled eggs packaged with cashews and Gouda cheese
High Protein – high-protein snacks were big at this year's show, and packed a big flavor punch along with protein. New meat snack flavors were smoky bourbon, taco, and apple chardonnay, while new high protein mini cakes came in flavors like red velvet and birthday cake
Foodservice Business Insights
Upgraded food, beverage and merchandising are the most significant changes to foodservice in c-stores. From premium ingredients to tapping into fast casual trends, owners are realizing that the most profitable area of the store deserves extra attention.
Implications for Food Marketers
Going Digital – technology is automating everything from digital menu boards to loyalty programs tracking consumers' purchase histories. Smart marketers are using this data to drive purchases with app offers and upselling at the point of purchase.
Packaging for Function – foodservice packaging for eating on the go continues to evolve, including trays to facilitate dipping sauces and combo meals as well as upscale bamboo and butcher-style deli wraps moving into this channel.
Something For Everyone – everything from state fair food served up in individual portions, to elevated chef inspired flavor profiles appealed to buyers. Managing product mix to appeal to consumers with different lifestyles can build business.
Taste Talk Tweet
Twitter chatter included:
Finding ways to incorporate Smartphone use to connect with their customers
Retail trends translate to convenience stores
Better ways to connect your store to your community
Follow us on twitter @Olsoncomm