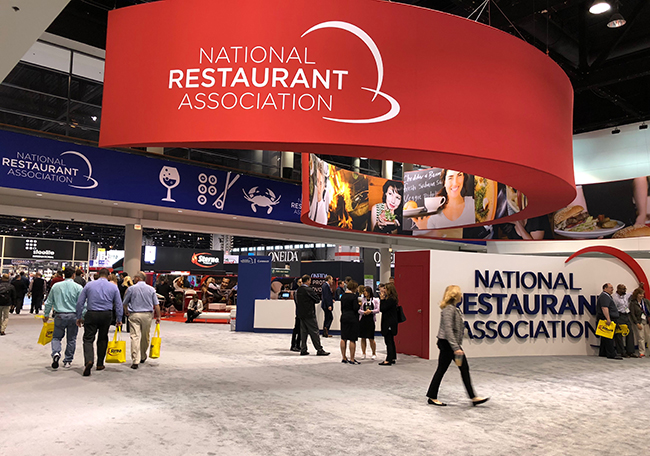 The National Restaurant Association (NRA) International Foodservice Marketplace is an annual event where over 2,300 companies from around the world showcase their products to more than 67,000 foodservice professionals. This year's show, the 99th, was a great place to see the fascinating and forward-thinking trends driving innovation in the foodservice industry.
Industry Highlights
The show arrived at an opportune time, with same-store sales growth at 1.5% at the end of April, the strongest it has been in nearly 3 years, according to Nation's Restaurant News. Restaurant sales reached $799 billion in 2017.
Trend Spotting
Asian for All: Korean sauces such as Gochujang have moved to the mainstream, with some being sold in dry and paste formats optimal for high-volume kitchen operations.
Indulgent Overload: Sweet and savory flavors melded together in unique applications to offer consumers the ultimate in indulgence.
Boozy Food: Waffles with rum maple syrup and smoky bourbon rubs were amongst the noticeable presence of alcohol-infused foods.
Impressive Packaging: As more consumers opt to order in, to-go boxes must now make the first impression. From fun, kid-friendly designs to sleek and elegant containers, packaging manufacturers are stepping it up.
Veggie Renaissance: Common vegetables like carrots have been elevated to center-plate status, working as a substitute for fish, and even being fashioned into their own kind of "steak."
Customer Insight
Today's consumers expect more than just a good meal when they go out to eat; many are looking for community support, as well. According to a recent Culinary Visions® Panel survey, 87% of consumers say they like to patronize restaurants known for treating their employees well, and 74% say they like to patronize restaurants that support causes they believe in.
Mindful Choices
Ethical concerns continue to influence consumers' dining decisions, with issues such as sustainability, responsible sourcing and employee welfare coming into question. Restaurants like MOD Pizza are responding by touting their people-first mission which includes above-industry pay, benefits and community support, along with environmentally-conscious practices.
Implications for Operators
Flexibility: From equipment that can be used across dayparts to menus based around quick and easy customization, flexibility allows operators to stay on pace with the trends.
Products with a Purpose: Food that tells a captivating story never gets old.
Freshness in Focus: Fresh is the hottest selling point with consumers willing to sacrifice calorie counts and nutrition facts for food they perceive as fresh from the farm, field and kitchen.
Taste Talk Tweet
Twitter chatter included:
Beverages and the bakery mingle with unique flavors like banana bread beer and latte pastries.
Legal cannabis poses new industry challenges.
Burger flights with unexpected toppings allow consumers to try a little bit of everything.
Follow us on Twitter @Olsoncomm