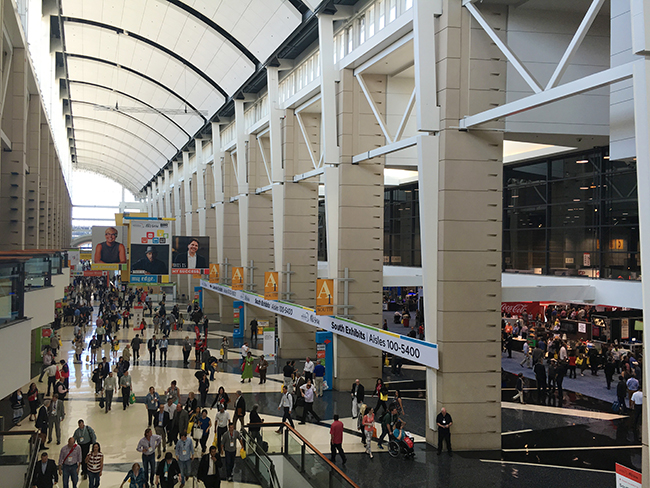 The National Restaurant Association (NRA) International Foodservice Marketplace is an annual event where over 2,000 companies from around the world showcase their products to more than 45,000 foodservice professionals. This year's show illuminated trends that are sure to have a lasting impact on the
foodservice industry.
Industry Highlights
As consumers continue to allocate more and more dollars to eating out, it is estimated that restaurant sales will reach $799 billion in 2017, according to Nation's Restaurant News. Consumers continue to shift their spending to more convenience-oriented foods with QSR growth projected at 2.5%.
Customer Insight
Ethical practices directly relate to consumer perceptions of food quality. According to a recent Culinary Visions® Panel survey, operators who develop and promote positive business practices and responsible ingredient sourcing, benefit from an overall halo effect. Consumers believe the food at restaurants known for ethical practices will be fresher (53%), healthier (49%), and taste better (47%).
Trend Spotting
Food with a Story: Whether hand-crafted, cultivated, or all-natural; consumers want to know the story behind the food.
Healthy Indulgence: The Mindful Dining movement has consumers rethinking indulgence with a healthy perspective.
Soups Reinvented: Whether Chicken Turmeric Bone Broth, Thai Curry & Lime or Gazpacho, soups are now available on-the-go. New innovative microwavable packaging resembles a disposable coffee cup.
Center-of-the-Plate: Protein suppliers marketed elevated forms of their products, showcasing premium cuts of meat, marbling, clean labels, global flavors and old-time production methods.
The Caffeinated Consumer: Nitro cold brews are making their presence known in the world of coffee and tea. Independent and corporate chains are adding a nitro-punch to their consumers' caffeine needs.
Mindful Choices
Sustainability continues to gain momentum as consumers' concerns about ingredients, animal welfare and ethical treatment of food producers grow. As the trend continues to unfold, operators are finding simplicity drives sustainability and are creating ethical solutions while continuing to operate profitably.
Implications for Operators
Minimalism: Products and brands touting clean labels, fewer ingredients, less sugar, non-GMO and generally less processing are in demand.
Technology Takes Center Stage: Automation is a driving force behind new and innovative technologies. Latte art makers and 3-D pasta printing machines provide a wow-factor for consumers and allow for great customization.
House-made, Made Easy: Operators are looking for clean labels and foods that look house-made, yet are economical and have the convenience necessary for high volume kitchens.
Taste Talk Tweet
Twitter chatter included:
Hybrid innovation takes food and technology to the next level.
DIY donuts let adults play with their food too.
Distinctive craveable flavors are in demand and operators are answering the call.
Follow us on Twitter @Olsoncomm