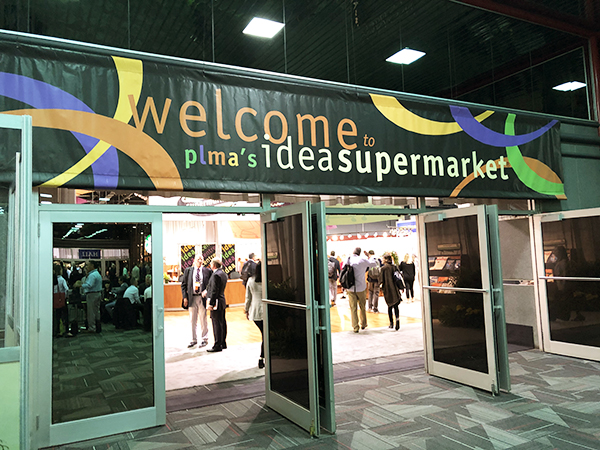 The Private Label Manufacturers Association (PLMA) is the perfect show to review at the end of the year because it provides a glimpse into which trends spotted through our research and attendance at all of this year's shows and conferences are becoming mainstream products. The show continues to grow with 1,500 exhibiting companies from 40 countries and 25 international pavilions. A special feature of the show, The Idea Supermarket, showcased 468 new products.
Spotlight on CBD
Cannabidiol (CBD) was prominently featured in the non-foods section of the show in health, wellness and personal care products. Although this category will continue to grow, there was little evidence of it in the food and beverage section of the show. A recent study by Culinary Visions® of 2,000 consumers identified the following important issues related to mainstreaming of food and beverage products made with cannabis ingredients:
50% of those surveyed would feel more comfortable buying cannabis-infused products if they had the opportunity to speak with a knowledgeable sales representative.
45% of those surveyed said they would trust products that are commercially made to be safe.
42% said they would prefer to buy from a small-batch producer, rather than a big food company.
Ready for Mainstream
PLMA is the place to spot product categories with momentum to become mainstream.
Plant Based Foods – This category includes plant based meat substitutes as well as pastas, snacks and a wide range of dairy products.
Pizza – Perennially a popular product at this show, more options with vegetable based and gluten-free crusts were on display.
Natural and Organic – From condiments to prepared entrees, it's common to find these options in many product lines.
Free-From and Fortified – Products free from ingredients like allergens and artificial ingredients were as common as those fortified with functional ingredients.
International Cuisine – Countries in the broad Mediterranean region received the most attention.
International Appeal
Foods from Italy dominated the international pavilions with 57 exhibiting companies presenting food and beverages. Italy's dedication to the private brand business was evident from the size of the delegation at this show that was significantly larger than at restaurant and specialty food shows earlier in the year.
Implications for Food Marketers
Enhanced Variety – More varieties of pantry staples like flour, sugar and mustard seen at the show appeal to today's more food conscious consumer.
Consumer Trust – The growth of trust in private brands often relates to the retail store, chef or celebrity behind the brand.
Favorite Mash Ups – Popular flavors in unexpected forms like pancake and maple syrup dessert bars add new appeal to favorite foods.