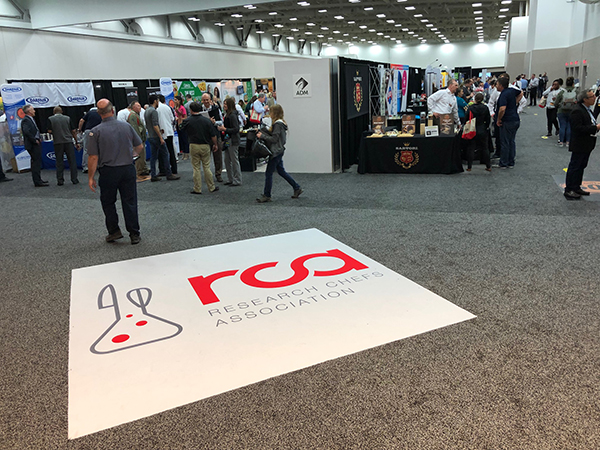 The Research Chefs Association (RCA) conference is where new product developers, food scientists and R&D chefs meet to explore, debate, and inspire each other with ideas and techniques that will drive menus and product development in the years to come.
Value Alignment
It is important for manufacturer and operator brands to align with consumers' personal values. More than 80% of consumers have visited a restaurant or retail food establishment for the first time because they perceived that their values aligned with the brand.
Trend Spotting
Plant-dulgent – consumers want to eat something they feel good about and that tastes delicious. The majority of plant-based consumers are not counting calories, evidenced by trending indulgent plant-forward concepts; it's about making a better choice for the world.
"Authentic" Falling out of Favor – the term authentic is exclusionary and the distinction between local and global food is blurring. Think kimchee made with locally-sourced ingredients.
Middle Eastern Flavors on the Rise – Levantine cuisine from countries like Cyprus, Jordan, Lebanon, Syria and Turkey are becoming more mainstream, with baba ganoush eggplant dip, kibbeh blended meat and grain patties, and spices like zaatar and sumac growing.
Wellness Personalization – the era of food that makes consumers feel good is giving rise to uber-personalization with DNA-diets on the horizon, which tell users what to eat based on a blood sample, plus tips on exercise and skin health designed specifically for their DNA makeup.
Digital Menus of the Future – menu customization is being driven by artificial intelligence, where algorithms are making decisions for us. It is predicted that digital menus will populate choices based on dietary concerns and flavor preferences of user profiles, with the next generation of automation coming from smart appliances that offer up recipes based on what's in the refrigerator, order groceries and adjust oven temperatures remotely.
New Head Buzz

Cannabis-infused food and beverages are picking up momentum as legalization expands, and cannabis compound callouts like CBD and terpenes are emerging. A recent Culinary Visions® consumer study found trust and traceability are top issues related to food and beverage products made with cannabis ingredients. The survey of 2,000 consumers found that 45% would trust products commercially made to be safe.
Implications for Food Marketers
Redefining Authentic Ethnic – honoring a heritage is becoming a more accepted way of marketing ethnic flavors and cuisines, allowing flexibility for a modern concept-specific twist.
Safe Experimentation with New Flavors – to make an LTO exciting, operators can add one ingredient from the inception phase of the trend cycle. QSR LTO's are often ubiquitous builds with a sauce or topping that brings consumer interest to get a taste of what's new and trending.
Processing as Intellectual Property Safeguard – savvy product development may include a new way to think about ingredients like natural flavors, colors, and modified starches – since it's so easy for private label or a competitor to knock off clean label products, these ingredients could help protect formulations.
Factory Automation Hits QSR
Robot technology that has been in CPG for decades is now being used for repetitive tasks at QSR, increasing throughput based on labor costs, consistency, and food safety. Some examples include 3-minute wok-cooked bowls using robots, pizza delivery units where the roving robot is the restaurant, with no real estate and just one employee per unit, and a bot assembly line that builds burgers to order.