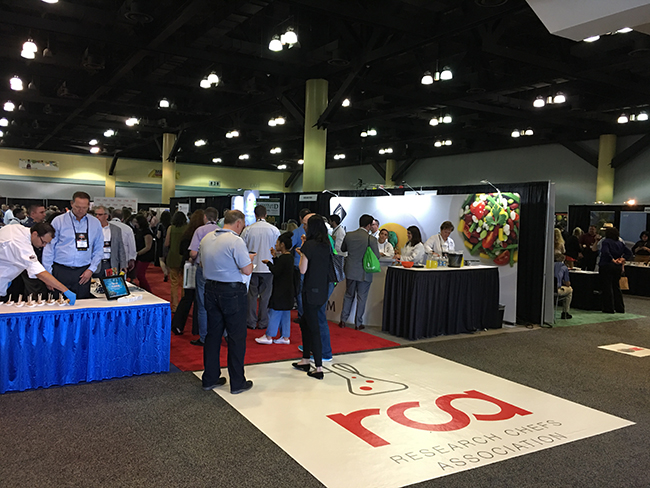 The Research Chefs Association (RCA) is a conference where R&D chefs, product developers and food scientists gather to find new solutions, innovative techniques and development insights for the year to come.
GMO Insight
The goal for genetically engineered foods is to stay ahead of pests and viruses, and in the case of peppers and tomatoes, will be necessary in the future to remain viable as commodity food crops. Although the Arctic apple and white mushroom have had the gene for browning "silenced," they aren't considered GMOs since the DNA from another plant was never introduced.
Trend Spotting
Rebranding Functional Ingredients – flavor and ingredient companies are moving away from synthetic sounding names that include words like chemical, pharma, and science, in favor of monikers that connote taste and nutrition.

Clean Label is Here to Stay – manufacturers are using novel ways to address clean labels, from phosphate alternatives for curing and aging meats to partially fermenting soup bases to add more savoriness while reducing sodium and MSG content.

Rethinking Food Waste – coming to a menu near you are discarded coffee bean hulls transformed into flour or utilizing spent beer grains in scone batter.

Expanding Foodies' Education – brands are pushing the boundaries of consumer acceptance by comparing a beloved consumer product to a new related product by communicating how they are similar, bigger, and better, which taps into existing preferences.

Marketplace Disruption – new experiences that can be curated and customized are changing the way consumers interact with food, including DIY restaurant ordering technology, home meal kit delivery and on-demand services.

Pop Culture Connection – brands that connect with pop culture icons stand to gain new audiences, whether that is via niche partnerships or social media.
New Technology
A new drying method unveiled at the expo can preserve more nutrients and create brighter colors in dehydrated ingredients than traditional processes like drum drying.
Implications for Food Marketers
Customer Collaboration – success means helping customers solve their pain points, often by working together in the same facilities with all the resources of R&D at their disposal; merely sending out samples and selling new products is no longer the way to do business.

Ingredient Origin – knowing the source of all ingredients is more important than ever for correct labeling and maintaining consumer trust.

Supply Chain Partnerships – vendors are stepping up to increased demands. A Culinary Visions® Panel survey found 53% of restaurant chains said they would rate the vast majority of their vendors as outstanding.
Taste Talk Tweet
Twitter chatter included:
Snacking is the behavior of the next generation
"Glocal" flavors: flavors from cultures around the globe, melded with local inspiration
Culinology's role in fresh foods is ensuring visual appeal, especially in a cryovac package and after 5 days on the shelf
Follow us on Twitter @Olsoncomm