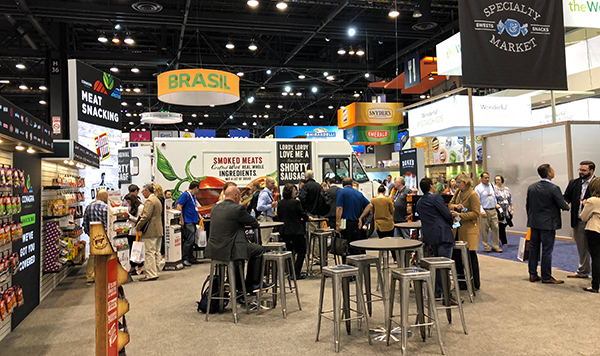 The Sweets and Snacks Expo drew more than 18,000 attendees and 800 + exhibitors from around the world. The expo continues to grow, with over 350 first time exhibitors at this year's show. Buyers represent supermarkets, mass merchandisers and specialty retailers who are looking for innovations that can drive business success.
Business Challenge
The confectionery industry is committed to bringing all pack sizes down to 200 calories or less by 2020.
Sweet Treats
Candy for Breakfast – thin chocolate coffee candy with flavors like cold brew, caramel and hazelnut.
Chocolate – continues to move toward sustainably-sourced.
Mindful Matters – companies touting goodness were abundant, from functional protein to stealth health treats targeting kids.
Meal Replacements – breakfast cookies were a nutritional match for a wholesome breakfast.
Savory Snacks
Super Snacks – range from plant-based veggie "pops" to organic nuts and fruits. Broccoli, carrots, kale, chickpeas, bananas and mangoes are a few of the ingredients featured in healthy snacking.
Meat Snacks – provided delicious flavor combinations like Thai curry and offered new forms like bacon on a stick and meat candies amped up with smokehouse sauces.
Crispy Cheese – snacks are gaining ground in sophisticated flavors like Parmesan, bacon and sriracha.
Nut Free Nuts – companies are using beans like soybeans and grains to mimic nut products. They are gluten free and organic.
Customer Insight
According to a recent Culinary Visions® Panel study, 83% of consumers want to see more businesses use environmentally friendly practices. This continues a trend that will continue to affect all aspects of the industry.
Implications for Food Marketers
Mindful Snacking: Consumers today use a holistic approach; healthy eating is less about avoidance and more about what goes into a product.
No Missed Connections: Savory and better-for-you snacking peaks around midday. Around 8pm, after dinner, is when consumers reach for sweets.
Transparency Matters: Don't rely on claims and ingredients to differentiate; claims are merely the point of entry and consumers need honest, open communication and substance behind the marketing.
Trending
Oil-free: air-popped, baked and freeze-dried snacks are all the rage with puffed forms taking shape in poppable spheres, curls and veggie-inspired shapes. Chickpeas, pea and legume protein and edamame were popular poppable ingredients.
Branded Partnerships: manufacturers are teaming up with restaurant brands to make flavors that replicate popular chain restaurant items or national brands, like Taco Bell brand sunflower seeds, The Cheesecake Factory Bakery at Home indulgent chocolates, and Jim Beam Bourbon salted caramels.
Ethnic Snacking: authentic flavors were represented in Indian cuisine with pappadum crisps in tubular chip packaging reminiscent of Pringles and Latin cuisine with horchata and mole-infused chocolates.
Taste Talk Tweet
Twitter chatter included:
Beverages and the bakery mingle with unique flavors like banana bread beer and latte pastries.
Legal cannabis poses new industry challenges.
Burger flights with unexpected toppings allow consumers to try a little bit of everything.