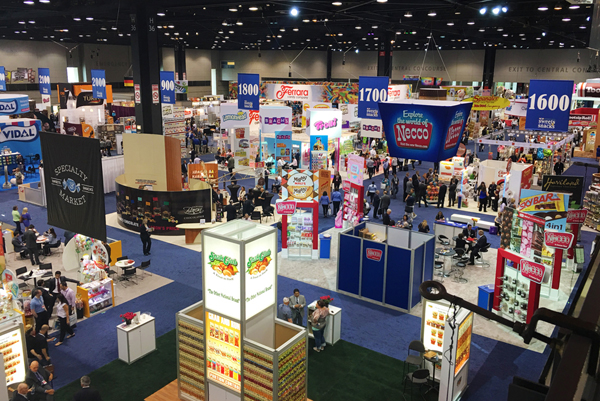 The Sweets and Snacks Expo is a mesmerizing experience as professionals wander through the McCormick Center with their bag of sweet and tasty snacks. This year's show continues to grow with nearly 17,000 attendees and 750 exhibitors from around the world, a 20% increase from the previous year. It's an exciting place to spot emerging trends in the sweet and savory snacks industry. Buyers representing supermarkets, mass merchandisers and specialty retailers all attend the show.
Business Dynamics
Confectionery items account for $35 billion in retail sales according to the National Confectioners Association. Most U.S. Consumers eat candy about twice a week and average 40 calories a day from candy.
Consumer Insight
A Culinary Visions® Panel study shows convenience stores are a top choice for purchasing snacks, followed by convenience stores and making snacks at home. Women make snacks at home almost twice as much as men, while men choose casual dining or fast casual restaurants for snacks more.
Sweet Treats & Savory Snacks
Chocolate: Sumptuous, single-origin dark chocolates, beer-infused chocolate truffles and toasted coconut petals rounded out this year's selection.
Gum: New trends towards natural and earthy flavors continue to emerge. Selections include ginger, maple, fennel/licorice, cinnamon and coffee.
Yogurt-coated Snacks: This re-emerging trend brings cranberries, peppermint crunch malted milk balls and peanut butter bites covered with Greek yogurt.
Meaty Snacks: Jerky came in prime rib, tri-tip and hanger steak cuts alongside all natural turkey snack sticks. Marinades included Smoky BBQ, Korean BBQ, Sriracha honey, ginger orange and chorizo lime.
Grains Galore: Granola and oatmeal bars ranged from fruity granola nuggets to crunchy combination squares. Crispy popcorn kernels were ground closer to the hull.
Better for You: Snack versions of natural veggies included roasted and dried broccoli florets and chips made of lentils and root vegetables.
Savory Snacks: Potato chips fried in avocado oils, sweet and salty caramel cashews, and crunchy whole bean chickpeas showcased healthier snack options.
All in the Package
Grab and Go: Fun mini bites came individually wrapped in zip-top pouches and touted healthful ingredients.
Novel Engagement: Lollipops come with retractable plastic enclosures, and hard candies have sweet powder dippers. "Selfie" candies with online
ordering and photo uploading technologies enabled users to personalize hard candies.
Target Audience: Extreme, "hazardously" sour candies attract kids while organic, natural snacks appeal to parents.
Youth-Driven: Emojis were a popular wrapper theme for packaging.
Implications for Food Marketers
"Free From": Positioning foods free from certain ingredients reflect lifestyle choices as this movement is no longer allergy-driven.
Gourmet On-the-Go: Consumers look for gourmet options even when they are on the move. Flavorful snacks inside convenient packaging are in demand for those with busy lifestyles.
Ethnic Explorations: The ubiquitous Greek yogurt has reached the ends of the earth as a snack ingredient. Latin and Asian flavors lean towards savory applications.
Taste Talk Tweet
Tennis star, Maria Sharipova, launches her own line of chocolates called Sugarpova.
Cartoon-branded treats include DC Comics candy lines and Marvel Hero-packaged snacks.
Luxury chocolates come fashionably shaped in stiletto heels.
For insights in real time, follow us on Twitter @OlsonComm.