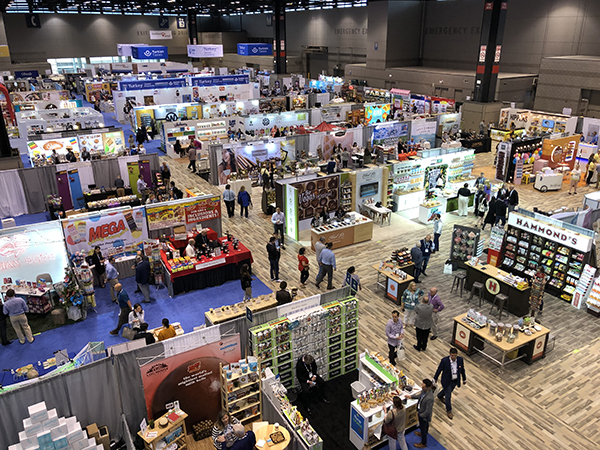 The Sweets and Snacks Expo drew more than 15,000 industry professionals and 800+ exhibitors, 200 of which were there for the first time. Buyers represent supermarkets, mass merchandisers and specialty retailers looking for innovations that drive business success.
Innovation is Key
$1.8 billion in new product launches last year joins the $51 billion in snacks and $36 billion in confectionery retail sales. New products account for nearly double in these categories compared to overall CPG.
Sweet, Savory & Approaching Healthfulness
2 for 1 – two flavors in one package were plentiful at the show, with duos, duets, and double drizzled products abounding among both sweet treats and savory items.
Crunchy Satisfaction – more companies are touting their textures with monikers like "hard bite" chips, "epic crunch" baked crackers, "frittle," a fudge-like brittle, tempura seaweed crisps, multigrain snack puffs, snack mixes combining nuts with crunchy bar pieces, and the "best in show" award going to sour crunchy worms with a candy-coated shell.
Sugar Reduction – sugar is now part of the cadre of ingredients on the "free-from" avoidance list for consumers. Suppliers in multiple categories from candy to beef jerky hyped up their sugar-free or –reduced items, as well as those free from sugar alcohols.
High Protein Meat Snacks – everything from breakfast bars to meat snacks packed in the protein, with new jerky flavors like pineapple chili and sweet habanero. Biltong, a thicker version of jerky cured with vinegar was also prevalent.
Whole Fruit Snacking – more suppliers debuted snacks made from whole foods, not juices or concentrates. Think nothing-but-fruit roll-ups, leathers, chewy dragonfruit chips and many blends of freeze-dried fruits marketed toward kids.
Chocolate – covered everything from dry-roasted chickpeas to gummies. Ethically-sourced continues to be a niche.
Brand Licensing – manufacturers are teaming up with well-known brands to create flavors that emulate popular items, like Tony Roma's chicken jerky, Jack Daniels pound cake, and Guiness stout cake with toasted barley to round out the flavor.
Bulk Vending Technology – a new premium vending machine with glass front and touchscreen allows consumers to mix and match flavors and choose the size of their snack, without the risk of contamination from traditional bulk bins.
Customer Insight
According to a recent Culinary Visions® study, 87% of consumers say they want to get more vegetables in their diets. Still, 82% of all consumers surveyed said they love meat. This trend continues to proliferate and is expected to affect all aspects of the industry.
Veggie Snacks Trend Forward
Consumers are redefining the role that snacks play in a balanced lifestyle. A plethora of new snacks were showcased with the aim of helping consumers increase their vegetable intake, with products like consciously crunchy puffs infused with spinach, turmeric, and cauliflower. Vacuum-fried crudites were a blend of okra, broccoli, and pumpkin. Single serve 20-calorie packs of vegetables included herb-marinated artichokes, asparagus and green beans.
Implications for Food Marketers
Snacks as Ingredients: Suppliers are encouraging new ways to use snacks as toppings, for baking, for smoothies and cocktail garnishes to enhance their product versatility stories.
Paralysis of Choice: Manufacturers are capitalizing on consumers being overwhelmed by too many choices with products where it's possible to create multiple flavor combinations within a single product or package.
Simple Ingredients = Healthy: Products with no additives, no artificial colors, certifications of all types, and a minimalist approach to ingredient decks are creating a new category of "better than junk food" that consumers equate with good health.
Treats to Fit a Lifestyle: Snacks to fit wellness diets are increasingly on-trend, with many ways to communicate on pack, through brand colors, textures and names signifying simplicity and purity.