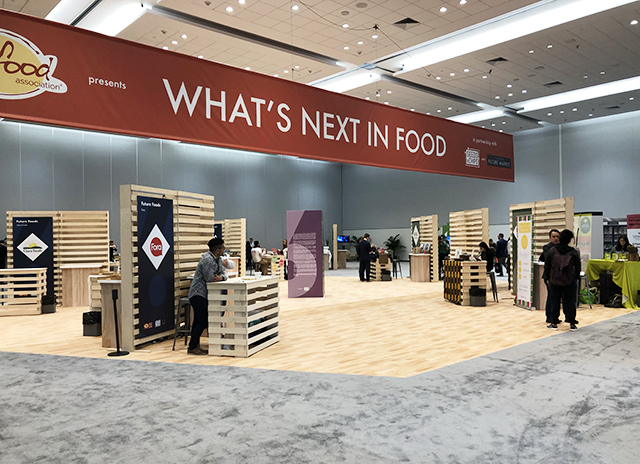 The Specialty Food Association's Winter Fancy Food Show is the first major industry forum of the year that attracts professionals in a wide range of business segments including: specialty and gourmet retail stores, supermarkets and foodservice operations. Unique features of the show include special areas dedicated to start-up ventures.
Hot Topics
Customer Connections – technology enables, but cannot replace experiences with food and purveyors who are passionate about their products.
Meal Delivery Shakeout – consumers' desire to dine out at home is driving innovation in delivery, grab and go and meal kits as suppliers struggle to find sustainable profit models.
Responsible Sourcing – 62% of consumers said that they seek out restaurants that offer responsibly produced foods on their menus in a recent Culinary Visions® study.
Light Footprint Living – Barely there and edible packaging appeals to consumers who are concerned about the environmental impact of packaging.
Vegetable Centricity – The veg-centric movement continues to gain momentum even with carnivores seeking more and more interesting vegetables in their diets.
Food and Flavor Trends
Fashionably Functional – whether it's the allure of the forbidden with cannabis ingredients or the satisfaction of golden lattes made with turmeric, food and beverages with medicinal benefits are all the rage.
Unabashed Indulgence – over the top confections promoted the unique quality of their ingredients and recipes appealing to today's consumers who want to balance their own choices of healthfulness and indulgence. A recent Culinary Visions® survey found more than half of consumers prefer not to see calorie counts on menu items.
Childhood Memories Driving Adult Choices – Birthday cake flavored organic cotton candy was made for grown up kids.
From Mundane to Modern – Everyday foods like cauliflower are showing up in new and exciting formats like pizza crust, tortillas and stir and go quick meals in a cup with international flavors like Peruvian Ceviche, Moroccan Harissa and Indian Curry.
Culinary Diplomacy
More than 30 countries showcased their food and culture, including 16 major pavilions. The largest were Italy, Japan and France. The Philippines, Mexico and Peru continue to build interest, and Cambodia appeared on the culinary scene.
Implications for Food Marketers
Conscious Capitalism – consumers expect honesty and authenticity in corporate behavior and employee practices.
Global Comfort Foods – global flavors have become so widely enjoyed that they are finding their way into modern comfort classics.
Lightning Fast Response Required – as culinary lifestyles have replaced diets, desired products and ingredients are changing quickly; this behavior requires food producers to be in constant search of what's next.
Industry Highlights
U.S. specialty food sales are estimated at $140.3 billion, up 11% since 2015. The top 5 growth categories are: water, rice cakes, ready to drink tea and coffee, jerky and meat snacks and shelf stable cream and creamers.
Gen Next − 79% of consumers 18-23 purchase specialty foods. – Specialty Food Association