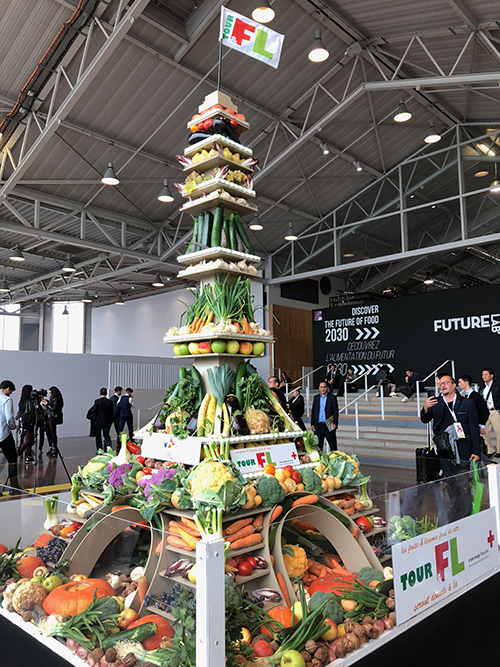 SIAL Paris (Salon International de l'Alimentation) is the world's largest food innovation exhibition, with more than 7,200 international exhibitors from the food industry and 160,000 attendees over five days. Every two years, the expo serves as a source of inspiration for the world food market, where leaders in foodservice, retail grocery and food processing enterprises come to present their latest innovations and predict future industry trends.
Among legacy products in the international pavilions, there were a number of on-trend new products that connect with consumers' lifestyle demands.
Single Serve Convenience – individual packs proliferated, including freeze-dried guacamole made to be reconstituted with water, and grab & go ready-to-eat kid's meals with organic grains and separate sauces packaged similarly to yogurt with mix-ins.
Healthier Snacks – snacks came in an array of formats and shapes puffed with air to make them lighter, with curls, wheels, rings and stars being popular; flavors included cauliflower puffs, pomegranate crisps and Thai curry bean chips.
A Bevy of Functional Beverages – there were many ways consumers could imbibe to attain their goals, from "lifted" teas that bring calm, harmony and wellness, to flavored waters, aloe drinks, and kombucha that deliver energy, anti-inflammatory benefits, memory retention, immune system boost or contain protein or amino acids.
Sustainably Sourced – new Japanese responsibly-farmed fish and harvesting processes preserve the texture and flavor of yellowtail and scallops for sustainable sourcing.
"Free-From" Proliferates – products like lactose-free dairy, gluten-free, preservative-free, and no artificial colors were widely available, often with marketing language like living free or being free.
Transforming Waste
Eco-friendliness is evolving into zero-waste, from edible straws to reusable bottle caps and some with marketable benefits beyond waste reduction, like the pizza crust with improved healthfulness using local spent grain, beer wort and yeast.
Global Consumer Insight
A new global consumer study from Culinary Visions® found that 87% of consumers, including those from France, Italy, Germany, Great Britain and the U.S., care about the quality of ingredients in their meals.
Implications for Food Marketers
Think Globally, Connect Locally – suppliers are working toward meeting consumer ideals and lifestyle choices, with more natural foods, clean label and functional benefits becoming mainstream the world over.
No Alternative to Innovation – innovation is needed to find the right positioning in developing markets to find growth drivers and to create value in mature markets. It is estimated that half of the food products that will be on shelves in the next five years do not yet exist.
Trust Your Gut – identifying and harnessing the role of gut microbes in diet-related health conditions will be key to product development in the coming years.
Taste Talk Tweet
Twitter chatter included:
Protein pearls for industrial applications
De-lactosed ice cream, butter and oat-based yogurt make dairy accessible to more people
All-in-one meal kits without food waste
Follow us on Twitter @olsoncomm